MSE Alumnus Wins IEEE Young Investigator Award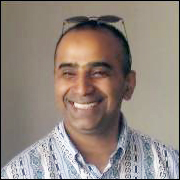 Department of Materials Science and Engineering (MSE) alumnus Nagarajan "Nagy" Valanoor (Ph.D. '01) received the Institute of Electrical and Electronics Engineers' (IEEE) 2014 Ferroelectrics Young Investigator Award.
The award, presented by the IEEE's Ultrasonics, Ferroelectrics, and Frequency Control Society (UFFC), recognizes achievements in research, education, and application in the field of ferroelectric materials. Valanoor was cited for "his outstanding contributions in experiments and theory of nanoscale electromechanical phenomena in ferroelectric thin films and interfaces."
"[This] would not have been possible without UMD roots, " he says.
Valanoor, currently an associate professor in the School of Materials Science and Engineering at the University of New South Wales (UNSW), Australia, specializes in the synthesis and characterization of ferroelectric thin films. While at the Clark School, he was advised by MSE professors Ramamoorthy Ramesh (now at UC Berkeley) and Alexander Roytburd, and has since collaborated with MSE professor Ichiro Takeuchi on the development of environmentally friendly piezoelectrics.
Valanoor's past honors include UNSW's Vice-Chancellor's Award for Excellence in Postgraduate Research Supervision and its Faculty of Science Research and Teaching Excellence Award; the Edgeworth David Medal; and the International Symposium for Integrated Functionalities Young Investigator Award.
Published August 15, 2014