MSE Senior Named Merrill Presidential Scholar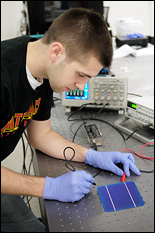 Department of Materials Science and Engineering (MSE) senior Eric Bailey has been named a 2014-2015 Merrill Presidential Scholar.
The Merrill Presidential Scholars Program honors the University of Maryland's most successful rising seniors and their mentors from both the University faculty and their K-12 education. Each year, scholars and their mentors are recognized in a special ceremony, and teachers and faculty participate in a workshop designed to strengthen relationships between the university and K-12 schools. To continue the legacy of academic excellence and mentoring, scholarships are awarded in the K-12 mentors' names to new first year students from their respective high schools or school districts.
Bailey's University of Maryland faculty mentor is Professor Sheryl Ehrman (Department of Chemical and Biomolecular Engineering), and his teacher mentor is Ms. Cheryl Schifflet (Chesapeake Senior High School, Pasadena, Md.).
In a statement on the Philip Merrill Presidential Scholars web site, Bailey explained how Schifflet influenced him in her roles as an English teacher and guidance counselor. "[S]he showed me at an early age how important it is to have fun and enjoy the process of learning," he wrote. "After encouraging me to participate in a variety of activities and seeking my assistance to tutor struggling students, she helped me find much-needed self-confidence and showed me how rewarding it can be to step outside of my comfort zone."
When he arrived at the University of Maryland, Bailey was afraid he wouldn't have the same sort of personal connection with his professors, but found one with Ehrman in her section of ENES 100: Introduction To Engineering Design. "[S]he allowed us to solve problems by ourselves and make our own mistakes," he wrote in his statement. "…She helped me realize the importance of learning from mistakes and she showed me how much I am capable of accomplishing with enough time and effort." Their relationship continued long after the class was over as Ehrman advised and guided Bailey through important academic and professional decisions.
"The lessons that Ms. Shiflett and Dr. Ehrman have taught me have been integral to my academic and extracurricular successes and for that, I am very grateful," he says.
In addition to this most recent honor, Bailey has received an Accenture Leadership Scholarship, the Lockheed Martin Corporate Partners Scholarship, and a SEEDS Undergraduate Research Fellowship. He is a Clark School Ambassador, a member of numerous honors programs, and a member of Assistant Professor Marina Leite's research group, where he studies solar cells. You can learn more about his academic and research experiences in his student profile.
For More Information:
Visit the Philip Merrill Presidential Scholars Program web site
Published August 12, 2014