MSE PhD Candidate Steven Lacey Wins ECS Research Award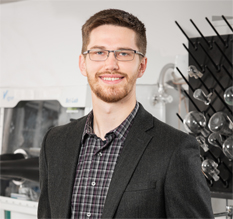 Steven Lacey, a Ph.D. Candidate in the Department of Materials Sciences and Engineering (MSE) and current President of the UMD Electrochemical Society (ECS) Student Chapter, has been awarded the ECS 2018 Battery Division Student Research Award. Lacey will be formally recognized at the 234th ECS Meeting in Cancun, Mexico, this October where he will offer a presentation on his work entitled, "Advanced Electrochemical Energy Storage Systems: Material Development, Alternative Electrode Processes & Planar Devices."
When asked about the award, Lacey said, "I am very honored to receive this prestigious award from ECS! Disseminating my entire Ph.D. thesis research at an international meeting like AiMES is a unique opportunity and one that I am looking forward to. I am excited to receive feedback and network with electrochemical experts at this Cancun venue."
Lacey was the 2015 recipient of the National Defense Science and Engineering Graduate (NDSEG) Fellowship. As an undergraduate, he received the UMD Student Research Award, and won 1st place in the ASM International Undergraduate Design Competition for his team's senior capstone project. Lacey's research focuses on the synthesis, modification, and (in situ) characterization of two-dimensional materials for energy applications beyond lithium-ion batteries.
Lacey, advised by MSE Associate Professor Liangbing Hu, is also a lead author on a recent research paper, featured on the March 30 cover of Science. The study focused on nanoparticle synthesis, which opens vast opportunities for a wide range of applications including catalysis (the acceleration of a chemical reaction by a catalyst), energy storage (batteries or supercapacitors) and bio/plasmonic imaging.
Published June 4, 2018