MSE@UMD Grads: The Next Generation of Faculty, Part 3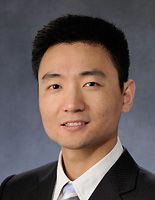 In this three-part series, we'll introduce you to Clark School alumni who have recently earned their Ph.D.s in materials science and engineering and have gone on to become professors.
Shenqiang Ren (Ph.D. '09), formerly advised by Professor Manfred Wuttig, has been an assistant professor in the Department of Chemistry at the University of Kansas since 2011.
Ren explains that as a prospective graduate student in late 2004 a personal, overseas call from Wuttig convinced them both that the Department of Materials Science and Engineering (MSE) at the Clark School would be a great place for him to be. "While at Maryland," says Ren, "I worked closely with Manfred—the experience was really wonderful, and we are still collaborating on projects. I also worked closely with Professor [Robert M.] Briber. MSE's faculty members are really willing to help and support each student's success, even after graduation."
Ren's dissertation won both the first MSE Doctoral Thesis Award and Dean's Doctoral Research Award for the creativity and intellectual insight he demonstrated in his development of new multiferroic nanocomposite materials. His work with Wuttig resulted in four papers published between 2007-2009 in Applied Physics Letters, two of which were also selected for the Virtual Journal of Nanoscience and Technology.
"In the course of his Ph.D. research Shenqiang developed a new category of self-organized polymer templated multifunctional materials," says Wuttig. "During his postdoctoral research at MIT, he applied the idea of self organization as well as his remarkable synthetic capabilities to polymeric photovoltaics, which allowed him to significantly enhance their efficiency and gain recognition in the field of energy related materials development."
At the University of Kansas, Ren, the director of the aptly-named Renewable and Emerging Nanomaterials (REN) Group, focuses on the chemical design and synthesis of self-assembled nanomaterials with novel properties that make them ideal for use in solar energy harvesting and storage, nanoelectronics and nanoplasmonics, and rare earth-free magnetic energy storage.
"It has been very exciting to set up my own lab, which I started from the scratch," he says. "I enjoy the experience of building my group, from lab renovation to equipment design, to recruiting students…teaching young people and sharing my knowledge with them makes my academic career more fun."
"I am grateful for my graduate study experience in MSE at UMD, which has had a large impact on my academic career and life," Ren adds. "I am sure this will continue."
Visit Professor Ren's homepage »
Visit Renewable and Emerging Nanomaterials (REN) Group web site »
Published December 5, 2011