Ren Wins Dean's Doctoral Research Award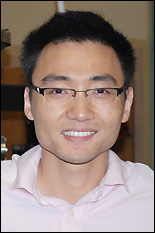 Graduate student and Ph.D. candidate Shenqiang Ren, advised by Department of Materials Science and Engineering (MSE) professor Manfred Wuttig, was awarded first place and a prize of $1500 in the 2009 Dean's Doctoral Research Award Competition. His project, "Bottom-up Multiferroic Nanostructures," earned top honors from a panel of judges including members of the College Board of Visitors.
To give top Clark School doctoral student researchers special recognition that will be valuable in launching their careers, and to show all students the importance of high quality engineering research, Dean Darryll Pines created the Dean's Doctoral Research Award Competition this year. Students submitted their work through competitions at the unit level. Ren was selected to represent MSE in the competition after winning the inaugural MSE Doctoral Thesis Award in April (see related story). MSE Professor and Chair Robert M. Briber describes Ren's work as "exciting and promising."
Dean Pines congratulated all of the winners and their advisors on the quality of their submissions, noting the power of competition to inspire high student achievement. He also thanked the judges: hybrid electric/gasoline powertrain inventor and 2008 Innovation Hall of Fame inductee Alex Severinsky, and Clark School Board of Visitors members Reed Harrison (president and COO, Cogent Communications) and Jean-Luc Abaziou (venture partner, Highland Capital Partners).
A similar research award competition at the Master's level will also be held.
For the complete list of winners, see:
"Dean's Doctoral Research Award Winners Announced" »
Published May 6, 2009