Nanocenter Team Among Invention of the Year Finalists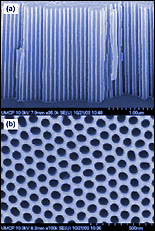 "Lateral two-terminal nanotube devices and the method for their formation," created by a team of researchers from the Department of Materials Science and Engineering (MSE) and the Department of Chemistry & Biochemistry, placed 3rd in the Physical Sciences category of the University's Office of Technology and Commercialization's annual Invention of the Year awards. The group includes MSE Professor and Nanocenter director Gary Rubloff; graduate students Parag Banerjee, Israel Perez, and Erin Robertson; and Assistant Professor Sang Bok Lee from the Department of Chemistry & Biochemistry.
A nanocale object with a macro-sized name, the device is a lateral two-terminal nanotube that enhances the efficiency of energy capture, storage, and delivery. The device and the method of its formation make it possible for scientists to create horizontally laying anodic alumina nanopores on aluminum foils that can then be loaded with functional films. The result is a collection of horizontal pn junction nano-diodes that have large electric fields to separate the electron-hole pairs, and short distances for the electrons and holes to travel to the terminals. When connected to electrodes on conducting strips at either end, groups of pores can be used as solar cells that pack a large surface area into a small device.
To Learn More:
Visit the Rubloff Group web site »
Visit the Office of Technology and Commercialization web site »
Published May 8, 2008