Ashley Accepted Into NIST Summer Research Program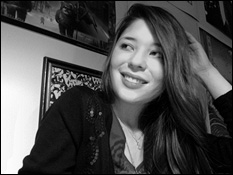 Department of Materials Science and Engineering (MSE) junior Elizabeth Ashley has been accepted into the
National Institute of Standards and Technology's
(NIST) Summer Undergraduate Research Fellowship (SURF) program.
Ashley will be heading to NIST's Material Measurement Laboratory, where she will be conducting research on the use of polymer thin films in semiconductors under the guidance of Dr. R. Joseph Kline. Kline, a project leader in NIST's Polymers Division, is using small angle X-ray scattering (SAXS), reflectivity, and resonant soft X-rays to characterize line structure and pattern shapes in block copolymer lithography. The results could be used to improve the quality of semiconductor chips.
"I chose this project because I love nanotechnology and studying nanoscale materials," says Ashley. "Optical and electronic material properties are incredibly fascinating and have enormous untapped commercial potential. I'd like to be a part of the cutting edge research that goes toward improving electronic devices by manipulating materials on an atomic level."
Ashley currently works in MSE professor Manfred Wuttig's research group, where she has been studying smart materials, shape memory alloys, and multiferroic materials. She has assisted Wuttig's group in its study of novel block copolymers with ferroelectric and ferromagnetic properties by preparing thin film samples and characterizing the materials using atomic force microscopy.
To learn more about NIST SURFs in the Washington, D.C. area, visit www.nist.gov/surfgaithersburg.
Published April 18, 2012