Undergrad Among First to Map Solar Cell Parameters at Sub-Micron Resolution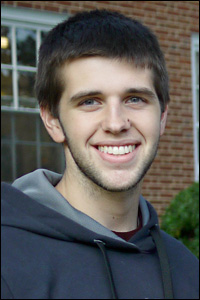 Department of Materials Science and Engineering (MSE) senior Eric Bailey has received a Successful Engineering Education and Development Support (SEEDS) Research Fellowship. The National Science Foundation-funded award supports his work on a project expected to expand what we know about the fundamental mechanisms and characteristics of solar cell performance.
Each year, the SEEDS program funds 20 undergraduates to work on a research project under the guidance of a faculty member or mentor for one academic year. Bailey is currently a member of MSE and Institute for Research in Electronics and Applied Physics assistant professor Marina Leite's research group, where he works closely with MSE graduate student Elizabeth Tennyson.
Bailey will use a new imaging technique developed by the Leite Lab to spatially map solar cell parameters such as current density, fill factor, and power conversion efficiency at the sub-micron (one millionth of a meter) level. The project will mark the first time these characteristics have been studied at this resolution. According to Bailey, the results will increase our understanding of solar cell functionality and the short- and long-term effects of material defects on performance.
"I love this project and Dr. Leite's lab," he says. "I am provided enough freedom to learn and explore the project, but enough guidance to help me through difficult problems that arise…I have had other research experiences in material testing and synthesis, so I am excited to be working on a characterization-based project to help me experience all the phases of materials science and engineering."
Those prior experiences include another SEEDS Fellowship-funded project, conducted under the guidance of MSE professor Aris Christou. The results of that study, which explored stress and low cycle fatigue behaviors in a lead-free solder, were published in the Journal of Materials Science: Materials in Electronics. Bailey says although his two SEEDS projects are very different, his time with Christou's group familiarized him with the research process, which has been helpful to the progression of his current work. He has also been able to call on programming and modeling experience he gained at the Naval Research Laboratory and the Johns Hopkins Applied Physics Laboratory to perform calculations he needs.
As part of the fellowship program, Bailey is required to present his work at several events including the University of Maryland Undergraduate Research Day, an activity he says has improved his technical communication skills. His SEEDS work is also the subject of his Engineering Honors Program senior thesis. He hopes to see his results published before he graduates.
"The technique I'm studying can be applied to many different devices and be used to study many different problems," says Bailey. "I'm excited to provide a significant and tangible contribution to our lab and to other labs in the field of photovoltaics."
For More Information:
Learn more about Eric Bailey's experiences in the MSE undergraduate program in his student profile
See: Gary Paradee, Eric Bailey, and Aris Christou. "Stress relaxation behavior and low cycle fatigue behavior of bulk SAC 305." J Mater Sci: Mater Electron (2014) 25:4122–4128.
Published November 12, 2014