Cornett Named ARCS Scholar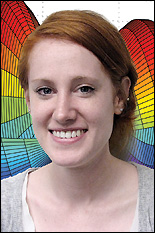 Department of Materials Science and Engineering graduate student Jane Cornett, advised by Assistant Professor Oded Rabin, has received an Achievement Rewards for College Scientists (ARCS) Foundation graduate scholarship.
Cornett, who conducts her research in Rabin's Materials and Interface Nanotechnology Laboratory, studies thermoelectric materials, which can convert a temperature gradient into electricity, and vice versa. Thermoelectric devices can be used as generators that produce power from recovered waste heat, and as refrigerators. Her work to improve a model used to calculate the thermoelectric properties of semiconducting nanowires in relation to their radii recently earned her a Best Student Presentation Award from the Materials Research Society.
The ARCS Foundation provides science, medicine and engineering scholarships to outstanding students whom are U.S. citizens contributing to the advancement of science and technology. Fellows are selected by representatives of the 52 U.S. academic institutions that the foundation supports, based on strict criteria and recommendations from departmental advisers and faculty, and receive a renewable award of $15K per year. For more information about the ARCS Scholarship recipients, visit the ARCS website.
Published April 7, 2011