Feodor Lynen Fellow Joins MSE and IREAP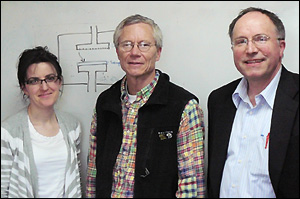 The Department of Materials Science and Engineering (MSE) at the A. James Clark School of Engineering is pleased to welcome visiting scientist and Feodor Lynen Fellow Dr. Evelina Vogli to the University of Maryland. Professor Gottlieb Oehrlein (MSE and Institute for Research in Electronics and Applied Physics [IREAP]), director of the Laboratory for Plasma Processing of Materials, and Professor James F. Drake (physics/IREAP) will serve as her hosts. Dr. Vogli is the Senior Engineer and Head of the Coatings Technologies Research Group at the University of Dortmund, Germany.
The prestigious Feodor Lynen Research Fellowship, which serves a similar purpose as a Fulbright Scholarship, offers outstanding researchers from all disciplines the opportunity to engage in a six- to 18-month research project at a foreign academic institution of their choice. The fellowship is awarded by the Alexander von Humboldt Foundation, which promotes academic cooperation between experienced researchers and group leaders from Germany and around the world by offering a wide variety of awards, professorships and fellowships for scholars at all levels of their careers. Fellows are hosted by a worldwide network of over 24,000 "Humboldtians," alumni and fellows of these programs.
"I chose the University of Maryland because [it] is among the top engineering programs in U.S.A.," says Vogli. "Both Professor Oehrlein and Professor Drake are nationally and internationally renowned in [the fields of] plasma and plasma-surface interactions. I was also very impressed with how many collaborative efforts there are between the Department [of MSE] and nearby national labs and industry."
Vogli will be studying surface modifications and functionalization of carbon and polymer coatings using low pressure and atmospheric pressure plasma. The customization of coatings is an important aspect of many manufacturing processes. By controlling or adjusting their surface properties, manufacturers can optimize a product's performance by enhancing its resistance to corrosion, scratching, heat, water, biohazards, friction, or wear. The precise use of plasma, and electrified gas, in the production of these customized coatings is key to achieving the desired results. Industrial demand for new and enhanced plasma surface treatment techniques has more than doubled in the past ten years, and more than quadrupled since 1995. Vogli's results could further advance manufacturing options and efficiency.
"This research stay offers me the possibility to gain valuable experience that will further my academic and scientific careers," says Vogli. "At Dortmund University I worked on the design and development of DLC and nano coatings as well as thermal sprayed coatings for wear, friction and corrosion protection at different fields of applications as well as sensor layers in machining tools. The work to be done at the University of Maryland will help me become acquainted with new methods and techniques, establish new contacts, exchange experiences with scientists from other countries, and become acquainted with cooperating partners. The research I intend to perform is a combination of my prior research work—plasma depositions and plasma treatment—and a new research field, plasma treatment of polymers. I hope to solve problems and obtain many positive results in a very international environment."
For More Information:
Visit Professor Oehrlein's Laboratory for Plasma Processing of Materials web site »
Visit the Alexander von Humboldt Foundation web site »
Published April 6, 2010