Hu: Invited Talk at Printed Electronics U.S.A.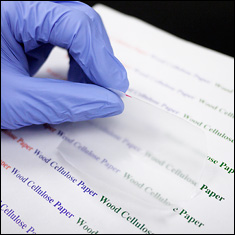 Assistant Professor Liangbing Hu (Department of Materials Science & Engineering and University of Maryland Energy Research Center) was an invited speaker at the Printed Electronics U.S.A. 2013 conference, "The Application of Printed, Organic & Flexible Electronics," held in November in Santa Clara, Ca.
In his Paper Electronics track keynote, "Transparent Paper for Printed Electronics," Hu discussed the development of his group's three generations of novel cellulose-based transparent paper, and proof-of-concept device applications. Hu also discussed the potential applications of the material in organic LEDs, organic photovoltaics, thin film transistors, resistive touch screens, and other flexible electronic devices.
For More Information:
See: Hongli Zhu, Zhiqiang Fang, Colin Preston, Yuanyuan Li and Liangbing Hu. Transparent paper: fabrications, properties, and device applications. Energy Environ. Sci., 2014, 7, 269-287. First published online 11 Nov 2013.
Published December 16, 2013