Hu Joins MSE Faculty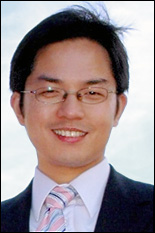 The A. James Clark School of Engineering and the Department of Materials Science and Engineering (MSE) are pleased to welcome their newest faculty member, Assistant Professor Liangbing Hu. Hu will also be a member of the
University of Maryland Energy Research Center (UMERC)
.
Hu, who earned his Ph.D. in physics from the University of California, Los Angeles (UCLA) in 2007, is currently completing a postdoctoral fellowship in the Department of Materials Science at Stanford University. He will arrive on campus in August 2011.
The University of Maryland's "outstanding" shared research facilities and centers were part of the reason Hu chose to come to the Clark School, and its people were the other. "The MSE program at UMD is strong and putting a lot of emphasis on energy research," he explains. "I will have the ability to work with the best students and colleagues here."
Hu's research group will focus on nanoscale devices for applications in energy and electronics, with an emphasis on materials design and fabrication. "I have many projects in mind," he tells us. "One goal is to [create] low-cost, high-efficiency and high-energy solar cells through roll-to-roll printed nanostructures. Another goal is to come up with high-performance energy storage systems for electric vehicles through nanoengineering. I am extremely excited about energy research and...flexible electronic devices based on nanoscale materials and printing methods."
Hu says his ideas and projects are focused on solving what he describes as society's "practical energy problems" through the development of new electronic technologies and solving fundamental problems in nanoscale energy research. He believes his work will ultimately set the stage for advancements in many consumer products and services, from better touch screens and batteries to more affordable electric vehicles and cheaper electricity.
Hu is currently recruiting members for his research group. Undergraduates, graduate students, postdocs and visiting scholars from a variety of disciplines are invited to learn more by visiting his web site at www.bingnano.com.
Published June 24, 2011