Jones, Syed Win NIST-ARRA Fellowships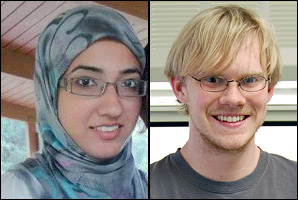 Department of Materials Science and Engineering seniors Ben Jones and Komal Syed have been awarded National Institute of Standards and Technology–American Recovery and Reinvestment Act (NIST-ARRA) Measurement Science and Engineering Fellowships. The two undergraduates are spending the fall semester at NIST's
Material Measurement Laboratory
(MML).
Jones is assigned to the MML's Polymers Group. Under the guidance of Dr. Ron Jones, he works on simulations and data fitting of neutron scattering of polymer microstructures. The work is part of efforts by a consortium called nSoft, consisting of members from academia, industry and NIST, to evaluate and polymer macrosctructures and improve their properties, making them suitable for use in American industry.
"It's almost all programming, but my background in materials engineering gives me the insight to understand what the code is modeling and what the correct answers should be," says Jones.
Prior to his fellowship, Jones was a member of MSE Professor and Chair Robert M. Briber's research group, where he worked under research associate Dr. Xin Zhang on block copolymer thin film self assembly. He also participated in another project at NIST in which he studied organic semiconductors at the Physical Measurements Lab under Dr. Michael Walsh.
Jones, who is interested in polymer physics and processing, scattering theory and crystallography, will be applying to graduate schools this year to pursue a doctorate in materials engineering.
Syed is working with Dr. Adam Creuziger in the MML's Metallurgy Division. She began working for Creuziger in Summer 2012 as a Summer Undergraduate Research Fellow, an experience that inspired her to apply for a NIST-ARRA Fellowship in the hope of continuing her research. Her project involves the statistical analysis of crystallographic texture (the preferred orientation of grains) in polycrystalline materials like steel.
"Crystallographic texture is a result of material processing which can have strong affects on the final product performance," she explains. "Orientation Distribution Function (ODF) is a normalized probability distribution function used to describe crystallographic texture. However...[not] much work [has been] done yet to quantitatively estimate the measurement uncertainty associated with ODF calculations. I am working with Dr. Creuziger...to investigate the bias errors in ODF calculations by analyzing the diffraction data from two independent techniques: neutron diffraction and electron back-scatter diffraction."
Syed says her MSE coursework helped prepare her for her fellowships, and she's excited about the opportunity to apply what she's learned to real-world engineering problems. "My [MSE] specialization area is Applications of Materials and Manufacturing," she explains. "I am really interested in radiation effects of materials, both metals and polymers in general. My work at NIST is mainly related to metals, steel in particular, so MSE courses like Physics of Solid materials, Materials Lab, and Macroprocessing are specifically useful."
Prior to joining NIST, Sayed was a member of MSE professor Sreeramamurthy Ankem's research group, in which she studied the behavior of titanium alloys. After earning her B.S., Sayed would like to continue her work at NIST before applying to graduate school.
The NIST-ARRA program, which is made possible by a $15 million grant, will bring some 50 fellows per year over three years to work at NIST laboratories in Gaithersburg, Md., and Charleston, S.C., providing new research collaborations among students, faculty and NIST scientists. The program's goal is to further develop a future scientific talent pool with extensive training in measurement science and engineering.
For More Information:
Visit the NIST-ARRA Measurement Science and Engineering Fellowship web site to learn more the program and and how to apply for graduate, postdoctoral, and research fellowships.
Visit the Material Measurement Laboratory web site web site »
Published October 8, 2012