Shih Wins NIST-ARRA Fellowship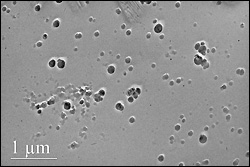 Department of Materials Science and Engineering (MSE) graduate student Jennifer Shih, advised by MSE Professor and Chair Robert M. Briber, has been awarded a National Institute of Standards and Technology—American Recovery and Reinvestment Act (NIST-ARRA) Measurement Science and Engineering Fellowship. Shih will conduct her fellowship research at NIST's
Center for Neutron Research (NCNR)
under the direction of Dr. Julie Borchers.
Shih studies the structural and magnetic characterization of magnetic nanoparticles in a silk elastin-like block copolymer (SELP) system. The material, which has potential applications in cancer treatment and biomedical imaging, consists of therapeutic nanoparticles suspended in a polymer that gels near body temperature. The silk units in the polymer give it its structure, while the elastin, a protein found in connective tissue, gives it flexibility. Shih and her colleagues believe these components create a fibrous, web-like network ideal for lining with nanoparticles.
"One of the applications for my research is hyperthermia cancer treatment," she explains. "SELP containing nanoparticles would be injected near a tumor site, and then an external magnetic field would be applied to further direct the nanoparticles or to cause them to generate enough heat to kill localized cancer cells while leaving surrounding healthy tissue unharmed." Shih adds that the SELP system could also be used as a contrast agent in magnetic resonance imaging (MRI) or as a vehicle for drug delivery.
At the NCNR, Shih plans to conduct neutron scattering experiments to investigate both the structural and magnetic properties of the nanoparticles and SELPs, determine how these properties correlate with one another, and characterize the system as a whole.
"I'm excited about the winning the fellowship," Shih adds. "It gives me the ability to work with leading research scientists at a national research center and world class facility, and it will provide me with extensive experience in neutron scattering. This will greatly complement the research that I have completed so far in Professor Briber's lab and with the Magnetic Materials Group at NIST this past summer."
The NIST-ARAA program, which is made possible by a $15 million grant, will bring some 50 fellows per year over three years to work at NIST laboratories in Gaithersburg, Md., and Charleston, S.C., providing new research collaborations among students, faculty and NIST scientists. The program's goal is to further develop a future scientific talent pool with extensive training in measurement science and engineering.
For More Information:
Visit the NIST-ARAA Measurement Science and Engineering Fellowship web site to learn more the program and and how to apply for graduate, postdoctoral, and research fellowships.
Published December 6, 2010