Martínez-Miranda Named Fulbright Specialist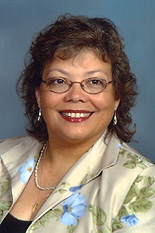 Department of Materials Science and Engineering and Maryland NanoCenter associate professor Luz J. Martínez-Miranda has been named a Fulbright Senior Specialist by the J. William Fulbright Foreign Scholarship Board, the U.S. Department of State's Bureau of Educational and Cultural Affairs and the Council for International Exchange of Scholars (CIES).
Applicants who are accepted into the Fulbright Specialists Program are first appointed as candidates to the Fulbright Specialists Roster, which helps connect qualified experts with international research programs in need of collaborators. The CIES provides travel grants and stipends to selected roster members, who are then designated Fulbright Senior Specialists, to fund their participation in short-term overseas projects and related educational activities. Martínez-Miranda has already been matched with Associate Professor Eduardo Soto-Bustamante, a member of the University of Chile at Santiago's Department of Chemistry, who has invited her to visit his research group in spring 2012.
Soto-Bustamante, an organic synthetic chemist, has been working with liquid crystal polymers, while Martínez-Miranda's recent work has included liquid crystal/nanoparticle interactions, particularly for use in photovoltaics. She expects to contribute her expertise in the physics of the particles' interactions with liquid crystals, while Soto-Bustamante will define their chemical effects.
"Liquid crystal polymers are better than monomeric liquid crystals because they have polymers' properties, and this gives them a lot more mechanical integrity," Martínez-Miranda explains. "Applications of our work could include creating solar cells with elastomeric properties that are more stable and last longer."
She is looking forward to the trip. "I'm delighted about the collaboration because I haven't previously had a chemist working with liquid crystals working with me," she says. "I also hope to teach a short course on the physical properties of liquid crystals at the University of Chile. Ultimately, Professor Soto-Bustamante and I want to develop a program in which we can exchange graduate students from our research groups, which would be a win-win result for both them and our respective research programs."
To learn more about the Fulbright Specialist Program, visit www.cies.org/specialists.
Published December 7, 2011