Martínez-Miranda Leads U.S. Delegation at ICWIP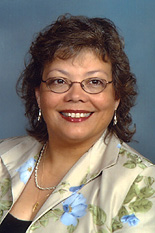 Department of Materials Science and Engineering associate professor Luz J. Martínez-Miranda recently served as co-leader of the United States delegation to the Third International Conference on Women in Physics (ICWIP 2008), held in Seoul, Korea in October 2008.
The event is dedicated to celebrating the achievements of women in physics throughout the world, networking to establish new international collaborations, gaining skills for career success, and aiding the formation of active regional working groups to advance women in physics. Martínez-Miranda was one of 283 scientists from 57 countries in attendance who represented the fields of physics, materials science, and other related engineering disciplines.
According to a study conducted by the American Institute of Physics, fewer than 15% of physicists worldwide are women. "The scarcity of women in physics, especially in leadership positions, is a problem for many countries," Martínez-Miranda explains. "They cannot benefit fully from women's ideas and approaches to improve their economic competitiveness or solve difficult problems in energy, health, and global sustainability. Women, men, institutions, and governments need to work together to encourage, educate, recruit, retain, advance, and promote more girls and women in physics and other science and technology professions."
To that end, Martínez-Miranda and the ICWIP participants unanimously approved a resolution, originally presented at the 26th General Assembly International Union of Pure and Applied Physics in Tsukuba, Japan earlier this month, that addressed these issues.
"Serving as a leader of the U.S. delegation was a great honor," Martínez-Miranda says of the experience. "A lot of physics departments either include a materials science program or are oriented toward materials science, which makes participation in this conference important for the materials scientists. We have a lot to contribute in the fields of interdisciplinary research and education. This conference offered me the opportunity to establish or re-establish international collaborations, particularly with colleagues in Latin America, and to attend a session on professional development that gave me many ideas as to where my career may take me."
Martínez-Miranda believes the ICWIP events will ultimately have a positive effect on female leadership in all fields of science and technology. Since the first ICWIP in 2002, most of the countries who sent delegations have made progress in attracting girls to physics, increasing the number of physics degrees awarded to women, and promoting women physicists. The next conference will take place in South Africa in 2011.
Learn more about women in engineering:
Visit Professor Martínez-Miranda's homepage »
Visit Clark School's Women In Engineering web site »
Visit the Clark School's Society of Women Engineers web site »
Published October 22, 2008