MSE Capstone 2008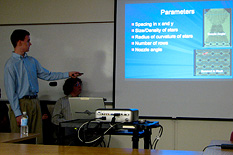 The MSE Class of 2008 gathered for the presentation that represented the completion of their undergraduate experience at the Capstone finale May 12, 2008. Capstone, a course taken in the senior year, is one of the most important parts of the Clark School's engineering program. In it, teams of students utilize what they have learned throughout their undergraduate studies to create their own engineering designs from concept to product.
The team of eight students—Elyse Canosa, Josh Davis, Colin Heikes, Gao Li, Pavel Kotlyarskiy, Christina Senagore, Maeling Tapp, and Alvin Wilson—chose the design of a microfluidics mixer for their project.
Microfluidics is the study, design and building of micro-scale devices and systems that use channels and chambers for the containment and flow of fluids whose volumes are measured on a microliter or nanoliter level. Microfluidic devices are used across many disciplines, including chemical engineering, biology, bioengineering, DNA analysis, and pharmacology.
At such tiny scales, fluid behavior changes. Factors that are not so important at the macro scale suddenly become very relevant, making the design and implementation of new devices challenging. Mixing is particularly difficult due to the tiny dimensions, low velocities, and lack of turbulence. An improved method microfluidic mixing, the Capstone team explained, would greatly enhance the performance of Micro-Electro-Mechanical Systems (MEMS) and "labs on a chip" by reducing the sample size required and speeding up assay times.
Over the course of their presentation, the seniors described how computer modeling and simulation of fluid flow showed how their novel, proposed mixer design could effectively mingle the molecules of two different fluids, and what variables affected the device's efficiency. They also described lessons learned in Capstone process, including tracking down an error in their crucial simulation software that was distorting their results and putting the entire project at risk.
"They were able to discover a significant problem in the [software's] parameters," said Associate Professor Ray Phaneuf, who advised the team. "It was an impressive piece of detective work."
For More Information:
Visit the Capstone course information page to view this and previous years' presentations and reports »
Published May 19, 2008