MSE Creates New Undergraduate Award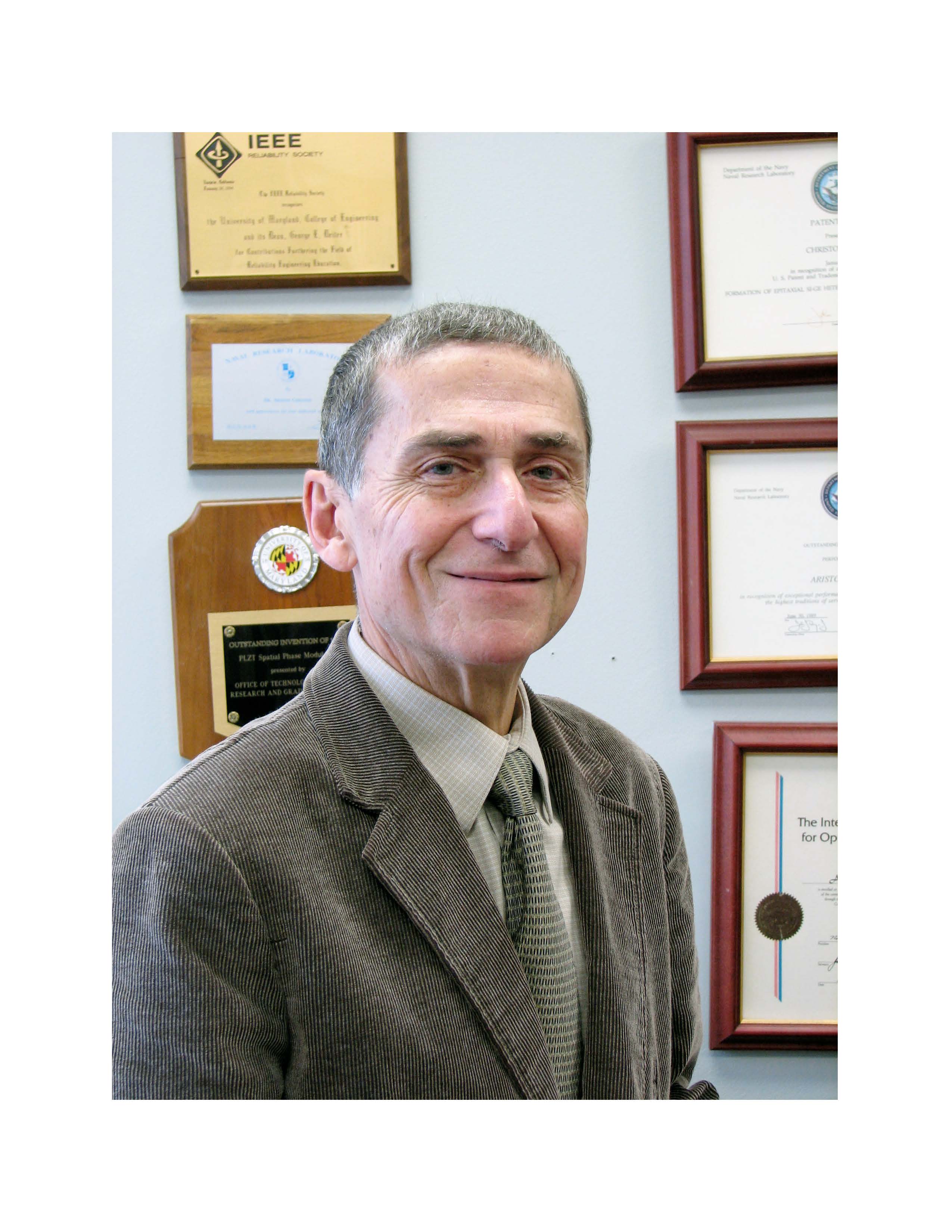 Aris Christou, professor of materials science and engineering (MSE) at the University of Maryland (UMD), College Park, recently established a new student award in the department: The Aris Christou Undergraduate Award for Excellence in Electronic and Photonic Materials. The award, which goes into effect during the 2021 spring semester, will be available to graduating seniors who demonstrate excellence in electronic and photonic materials. This award is the first of its kind in the department and will honor undergraduate academic achievement for many years to come.

"Many of our alumni have outstanding careers in leading semiconductor companies," said Christou. "This award will help honor the students who have excelled in the area of electronic and photonic materials, and will encourage new students to think seriously of how they, too, can impact this very important engineering sector."
Christou, who presently holds appointments in MSE and mechanical engineering (ME) at UMD, has worn many hats during over the course of his career. After receiving his Ph.D. in Materials Science from the University of Pennsylvania in 1971, he was awarded a Fullbright Fellowship in 1985, which he utilized to establish molecular beam epitaxy research programs in Greece. In 1986, he established reliability programs in both Italy and Greece, which were established under the auspice of the NATO Scientific Affairs Committee for Southern European Stability. In 1981, Christou was awarded the UNESCO Scientific Affairs Service Commendation for his work in training international scientists in applying electron microprobe techniques to geological exploration. In 1987 while serving on the faculty of the University of Bologna (UNIBO), he received the UNIBO Millennium Medal for his scholarly contributions during the 1000th year anniversary of the University. From 1978-1990, Christou served as the Branch Head of Surface Physics at the Naval Research Laboratory, where he was recognized for outstanding performance. Indeed, the U.S. Navy credited him with inventions in mixer detector diodes, thin film interconnects, and for the development of reliable solid state phased array radar devices during his tenure.
In 1990, Christou joined UMD as a professor of mechanical engineering. Shortly thereafter, he was appointed Department of Materials and Nuclear Engineering Chair, where he remained for a decade. The department was later reorganized to form the current Department of Materials Science and Engineering. During his tenure, Christou added to the department's successful reorganization by establishing a new undergraduate degree program, spanning from electronic materials science to organic materials.
Christou presently conducts research in compound semiconductor materials and process science, radiation effects in materials and devices, manufacturing science, and reliability. He has authored two books and served as editor of three others. Christou has more than 150 publications in top-tier journals, 14 patents, and has organized international conferences in GaAs devices, materials and reliability. Christou is a Fellow of the IEEE and a recipient of the DoD-Berman Publication Award. He's currently a member of APS, ASM, TMS and MRS; is a former president of the Federation of Materials Societies, and is currently a member of the FMS Board of Trustees.
Christou's contributions and technical leadership have paved the way for such products as satellite receive-transmit circuits, reliable metallization gates, GPS systems and cellular communication, among others.
Published February 24, 2021