MSE Graduate Student Racks Up Multiple Honors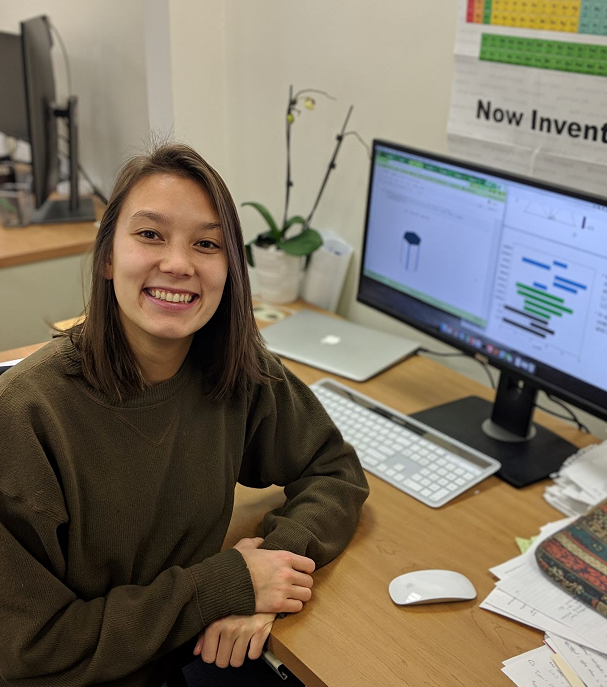 Adelaide Nolan is a busy woman. On October 2, "Addie" – a graduate student in the UMD Department of Materials Science and Engineering (MSE) – was named a 2019 recipient of the Engie North America Chuck Edwards Memorial Fellowship.
The Engie fellowship, established via the UMD College Park Foundation, supports students performing energy conversion research, and offers $25,000 in academic assistance.
Nolan's project, "Thermodynamic guidance for interface engineering in an LLZO all-solid-state lithium-ion battery," aims to understand the thermodynamic requirements for engineering stable interfaces in an all-solid-state battery based on the solid electrolyte Li7La3Zr2O12, or LLZO.
Solid-state batteries use a solid electrolyte, such as LLZO, instead of the organic liquid electrolyte currently used in most Li-ion batteries. Unfortunately, LLZO has stability problems with high voltage cathodes and the Li metal anode, resulting in poor battery performance, or failure.
"All solid-state batteries have the potential to be safer and have higher energy density," said Nolan. "I plan to use first-principles calculations to establish a theoretical understanding of this instability, and based on my results establish processing parameters or coating layers that could stabilize the interface."
This past summer, Addie – advised by MSE Associate Professor Yifei Mo – also received an Honorable Mention for the National Science Foundation (NSF) Graduate Research Fellowship, in addition to second runner up in the Best Student Paper Competition at the Clearwater Clean Energy Conference. Her paper and talk, entitled, "Computation-Accelerated Design of Advanced Materials for Novel Energy Applications," was well received.
Addie, who came to UMD via Cornell – where she received her B.S. in Materials Science and Engineering in 2017 – has already been published numerous times including serving as the lead author twice. Her background also includes internships at NASA and Oak Ridge National Lab. In her free time, she's an avid frisbee player, and coached the UMD Women's Ultimate Frisbee Team in the 2018-2019 season.
Related media:
2019 Engie Fellowship Recipients Named – UMD, 02Oct 2019 (http://www.ceee.umd.edu/news/news_story.php?id=12527)
Powerful X-ray Beams Unlock Secrets of Nanoscale Crystal Formation – UMD, 09Jan2019
https://mse.umd.edu/news/story/powerful-xray-beams-unlock-secrets-of-nanoscale-crystal-formation
Mo Research Group's Solid-State Battery Review Published in Joule – UMD, 24Spet2018
https://mse.umd.edu/news/story/mo-research-groups-solidstate-battery-review-published-in-joule
Published October 4, 2019