MSE Students Thomas Farinha and Dylan Kirsch Honored at Clark Fellowship Reception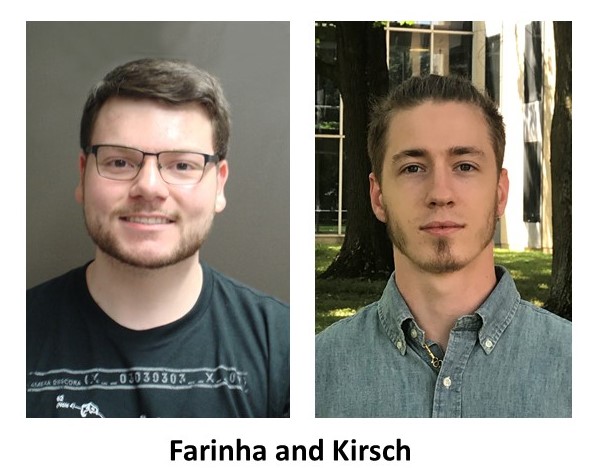 Two students in the University of Maryland Department of Materials Science and Engineering (MSE) were honored at the A. James Clark Fellowship Reception, held Tuesday, February 19th.
Thomas Farinha – a first year student working with MSE Professor Marina Leite's group in IREAP – and Dylan Kirsch (B.S. '18) – a MSE Ph.D. student co-advised by MSE Professors Liangbing Hu and Ichiro Takeuchi – were recognized.
Farinha is using his fellowship to study interactions between light and matter – his work, "Magnesium for Transient Photonics," recently made the cover of ACS Photonics. The study discusses magnesium-based color pixels that exhibit a transient optical signal with exposure to water.
"It was good to see such a large turnout at the reception," he said, "and the variety of researchers helped me to put the interdisciplinary nature of the fellowship program into better context."

Kirsch – whose research focuses on materials for energy storage and conversion - has already been published several times, and was recognized at the reception for a high number of citations.
"This event was a great opportunity to interact with other faculty and Clark fellows, especially those in other departments outside of MSE," said Kirsch. "I was particularly happy because Dr. [Ankur] Srivastava highlighted the amazing work that the Clark fellows have already accomplished in just two short years."
The Clark Doctoral Fellowship is given to outstanding engineering students, who excel both inside and out of the classroom.
Published March 12, 2019