Briber Teaches New "Marquee Course"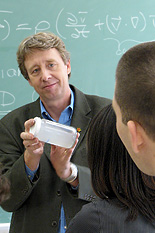 Materials Science and Engineering (MSE) professor and Chair Robert M. Briber is teaching one of the University of Maryland's new Marquee Courses in Science and Technology. The primarily 100-level courses, which fulfill undergraduate CORE requirements, are aimed at non-science majors and examine science and technology's roles in historical and contemporary issues, including energy, the environment, and medicine.
Briber's course, ENMA 150: The Materials of Civilization, covers the role of materials throughout history to the modern day, providing students with an understanding of the basic science that controls material properties and insight into the future of technology based breakthroughs in the materials that are driving the fields of nanotechnology, nano-medicine, microelectronics and biomaterials. The course includes a variety of hands-on demonstrations and guest speakers.
"Teaching this course is really enjoyable," says Briber. "I have a broad selection of students in my class and every lecture is a stimulating experience, with wide ranging questions and a lot of discussion. We're exploring how advances in materials are often directly coupled to advances in civilizations throughout history. It's a combination of learning about materials and the development of technology."
For more information on the Marquee Courses, visit www.marqueecourses.umd.edu.
Published September 19, 2007