Ion Storage Ring Makes it's Way to MSE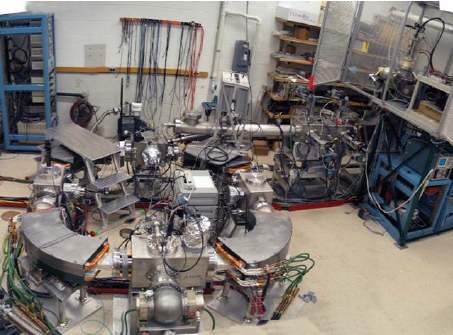 Michigan State University's Facility for Rare Isotope Beams has agreed to loan the UMD Department of Material Science and Engineering (MSE) a small circular ion-storage ring, which will be used in MSE Associate Research Professor Tim Koeth's investigation of 7Be – a radioactive isotope of beryllium naturally occurring in the Earth's atmosphere and surface.
Initially, this ring – roughly 4 feet in diameter, built up by a sequence of magnets – will be configured to capture and store 7Be to intense levels for the study of its interaction with materials for space application. Koeth's program – now in its 3rd year – is supported by Lockheed Martin's Office of the Chief Scientist. The ring components are expected to arrive early summer with first operations anticipated before the fall semester.
Scott Moroch, a physics student with a research appointment in MSE, is assisting Professor Koeth on this project.
Related Media:
This professor carries a Geiger counter and helps undergrads build particle accelerators
UMD's nuclear reactor got its license renewed for 20 years
Published April 2, 2019