MSE PhD Student Competes in 3MT Competition, Wins at College Level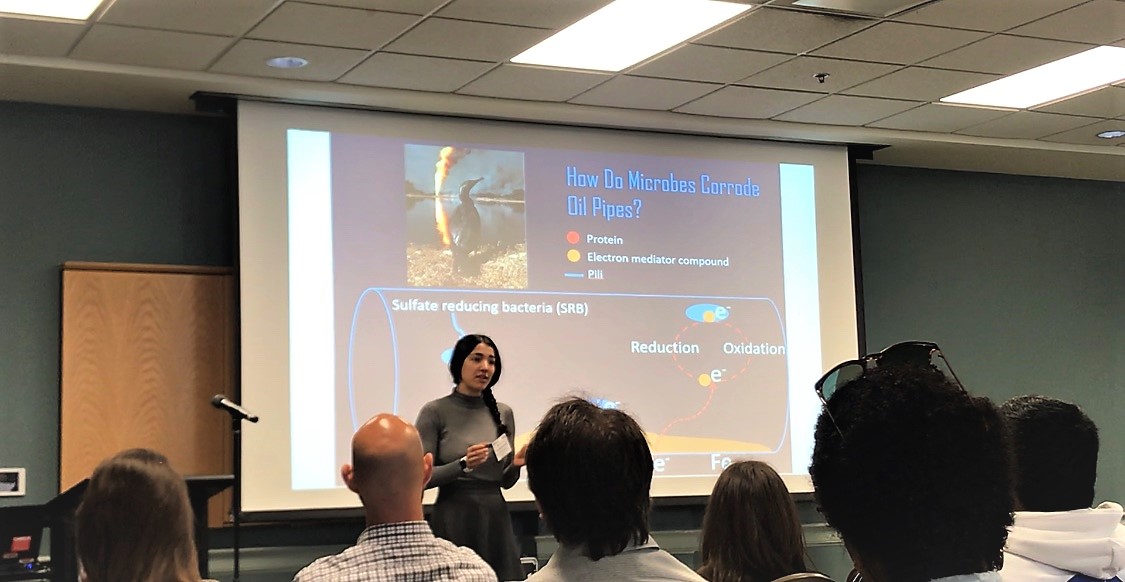 Azadeh Farzaneh – a Ph.D. student in the University of Maryland (UMD) Department of Materials Science and Engineering (MSE) – won the Three-Minute Thesis (3MT) Competition, at the College level, before advancing to the next level of the competition.
This competition, hosted by the UMD Graduate School, challenged Ph.D. students to explain the significance of their current research in three minutes, using a single slide. The first stage of the competition – which took place March 11 - is held at the college level, after which the winners proceed to the final round at the university level. College level winners received a $500 award and professional production of their 3MT video.
Farzaneh's research on Microbial Induced Corrosion (MIC) in Oil Pipelines – a major concern in the oil and gas industry – earned her a spot at the University competition, held April 3.
"Pipe failures due to MIC lead to discharge of millions of barrels of oil into the environment each year," said Farzaneh. "Sulfate reducing bacteria (SRB) are known to be the cause of MIC, but the mechanisms are not well understood. Direct electron uptake theory has gained attention over the last decade, however, there is insufficient experimental proof for this theory."
So, Farzaneh designed specific experiments to test this theory, and other possible mechanisms.
"I'm working on two SRB strains in our biolab," she said. "These strains are strictly anaerobic [oxygen free]. I cultured them in serum bottles under nitrogen flow, and monitor their activity via sulfate quantification. I also conduct electrochemical tests on the metal samples that come into contact with SRB cells, giving me insight into how the electrons are consumed on metal surface."
Although Farzaneh didn't place at the April 3rd event, she enjoyed the experience immensely.
"I discussed my research with my peers and people in my field," she said. "It was different and exciting to share my research with people from other majors and different viewpoints, and also stressful for me, but in a good way. If I haven't graduated next year, I will definitely compete again! And next time, I'll try to make my presentation less technical and more relatable."
Farzaneh is advised by MSE Professor Mohamad Al-Sheikhly and sponsored by the Petroleum Institute at Khalifa University. Her project is a collaborative effort between UMD, UCLA and Khalifa University of Science and Technology in Abu Dhabi, UAE.
Published April 5, 2019