MSE Alumna Julia Downing Wins NSF Graduate Research Fellowship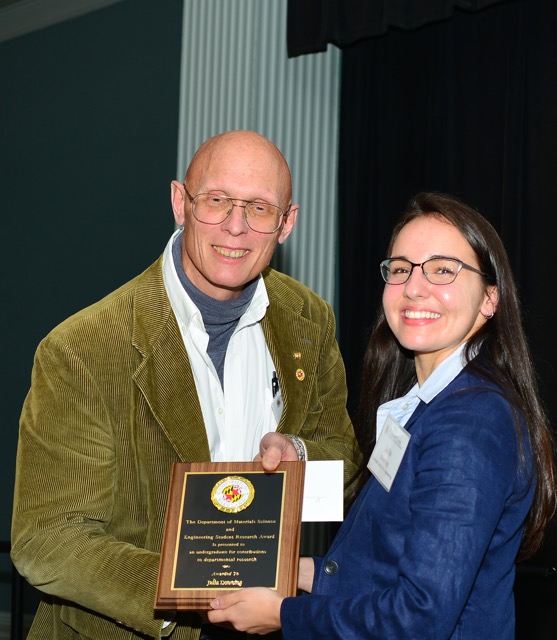 Julia Downing, who completed her bachelor's in materials science and engineering at UMD in 2017, received a National Science Foundation (NSF) Graduate Research Fellowship (GRF). The NSF-GRF offers three years of funding towards an awardee's research project, renewed annually, in support of masters and doctoral research in STEM fields.
The fellowship will support Downing's Ph.D. research at Northwestern University, which focuses on scalable manufacturing of 2D nanomaterials - including graphene, boron nitride and molybdenum disulfide - to enable formulation of nanomaterial ink that offers a range of electronic and functional properties.
"These inks can be deposited by a range of different techniques, including inkjet printing and 3D printing, which are getting a lot of attention for high-throughput fabrication of novel devices and structures," Downing said. "By exploring the properties of these nanomaterial phase spaces in a flow-based, scalable environment and testing their downstream properties with our lab's jet printers, I'm taking steps towards understanding and producing nanomaterials at the industrial level. I hope my work will contribute to the next generation of all-printed, flexible electronics that can be used for projects ranging from detecting contaminants in drinking water to revolutionizing energy storage."
During her tenure at UMD, Downing worked with Liangbing Hu, MSE Associate Professor, and Alison Flatau, Aerospace Engineering Professor.
"Both were amazing mentors and instrumental in getting me to where I am today," said Downing. "I co-authored a proposal for the Gemstone honors program with Prof. Hu, which piqued my interest in nanotechnology. Afterwards, we recruited a team of 13 undergraduates to join the four-year project. My work with the Gemstone team gave me enormous fulfillment, an ardent love for teamwork, and a thirst to continue researching nanomaterials! Dr. Flatau also quickly became a powerful role model for me due to her approachability, enthusiasm, strong leadership and incredible knowledge – traits that I continuously try to emulate in my research and mentorship since working with her. My work with her resulted in the publishing of a paper, Influence of Shape Anisotropy and Temperature on Magnetostrictive Behavior in Single Crystal Galfenol Alloys."
Downing also thanks Professors Gary Rubloff and Ray Phaneuf for helping her build the knowledge-base needed for Ph.D. research. She is on track to complete her Ph.D. in 2022.
Published April 12, 2019