MSE Alumna is 2019 MRS Medal Recipient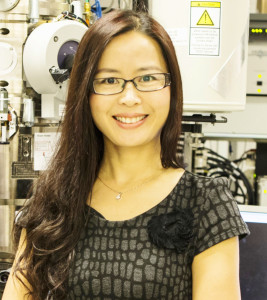 Haimei Zheng (Ph.D. '06) - an alumna of the University of Maryland (UMD) Department of Materials Science and Engineering (MSE), and scientist at the Lawrence Berkeley Laboratory - received the Materials Research Society (MRS) Medal "for outstanding contributions on the study of anisotropic nanoscale materials, transformation and application" - specifically, for her study entitled, "Real-Time Imaging of Nanoscale Materials Transformations in Liquids." Zheng was recognized at the 2019 MRS Fall Meeting in Boston, Ma., on December 3.
The MRS medal is an award that recognizes an exceptional achievement in materials research in the past ten years. Zheng was advised by Lourdes Salamanca-Riba (UMD MSE) and Ramamoorthy Ramesh (UC Berkeley Physics and MSE).
Please follow this link to watch an interview of Dr. Zheng, courtesy of MRS TV.
Published December 9, 2019