Takeuchi Honored for Multiple Clark School Awards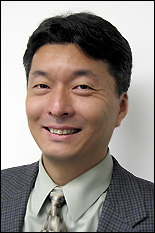 Ichiro Takeuchi, a professor in the University of Maryland (UMD) Department of Materials Science and Engineering, received the UMD Distinguished Scholar-Teacher Award, as well as the A. James Clark School Outstanding Research Award, for the 2018-2019 academic year.
The Distinguished Scholar-Teacher Program, established in 1978, honors a small number of faculty members each year who have demonstrated notable success in both scholarship and teaching. Distinguished Scholar-Teachers make a public presentation on a topic within their scholarly discipline, and receive an honorarium of $5000 to support their professional activities.
There will be a ceremony to honor faculty and staff accomplishments for the 2018/19 school year on Wed., September 12, at 3:00 pm at the Memorial Chapel. A reception will immediately follow in the Chapel Garden. Click here to see a list of Distinguished Scholar-Teacher awardees.
The Clark School Outstanding Research Award was established in 2000 and celebrates exceptionally strong and influential research by its faculty members. Takeuchi received this award for his invention of thermoelastic cooling and sustained leadership in high-throughput materials science over the years.
Published August 29, 2018