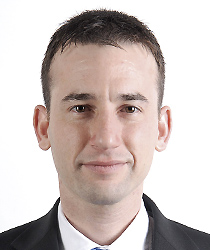 Rabin, Oded
Associate Professor
NSF CAREER Recipient
Fulbright U.S. Scholar

Materials Science and Engineering
Institute for Research in Electronics & Applied Physics
Maryland Energy Innovation Institute

1110B Chemical and Nuclear Engineering Building

EDUCATION
Ph.D., Physical Chemistry, Massachusetts Institute of Technology, Cambridge, MA, 2004
M.S., Chemistry, Weizmann Institute of Science, Rehobot, Israel
B.A., Chemistry, Technion, Haifa, Israel
BACKGROUND
Professor Rabin received a B.A. degree in chemistry from the Technion, Haifa, Israel, an M.Sc. degree in chemistry from the Weizmann Institute of Science, Rehobot, Israel, and a Ph.D. degree in physical chemistry from the Massachusetts Institute of Technology, Cambridge, MA in 2004.  He completed postdoctoral training at the Massachusetts General Hospital/Harvard Medical School and at the University of California, Berkeley.   He joined the University of Maryland in 2007.
HONORS AND AWARDS
NSF Faculty Early Career Development (CAREER) Award (2012)
Fulbright Award, 2022
Synthesis and physical properties of nanowires and porous thin films
Electrical and thermal transport in low dimensional systems
Nanoporous membrances
Interfacial nanoscience (including organic-inorganic systems, controlled assembly, scattering, and surface plasmons)
Thermal and electric transport
Applications in sensing, microfluidics, and chromatography
Recent years have seen significant progress in the fabrication of nanoscale structures and in understanding the unusual physics that govern their properties. Dr. Rabin's efforts will be concentrated in developing methodologies to prepare new types of nanostructures that will have characteristics not found in larger materials. He is also interested in investigating the ways in which nanostructures interact differently with their environment: can they promote chemical reactions, absorb molecules, and manipulate light and electrons and spins.
Dr. Rabin's research interests also include chemical sensing and molecule-nanoparticle interactions; advanced materials for thermoelectric energy generation; applications of nanoparticles as biomarkers for imaging, diagnosis, and repair; porous anodic alumina scaffolds; and molecular and nanoparticle transport in microfluidic devices.
Professor Rabin currently teaches: